Village Life
Grindleton Pavilion
The Pavilion is an outstanding facility for the village and wider community. It is available to book for public and private events. It has a large hall with lovely views over Pendle Hill. There is direct access to the secure children's play area directly from the hall. A well stocked bar is available for events and a high specification audiovisual system. Across the lobby is the well equipped kitchen. Upstairs is a large meeting room with its own facilities for making hot drinks. There are changing rooms for sporting events with showering facilities for home and away teams and a referee's room. A Multi-Use Games Area is on-site.

The Pavilion has its own website and Facebook page. Please visit these sites to view the calendar of regular activities and special events, learn more about its facilities and operation, and book the venue.
The facilities are versatile and can be prepared to suit all types of events, formal and informal.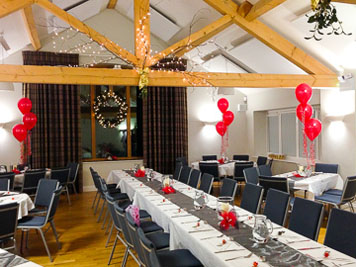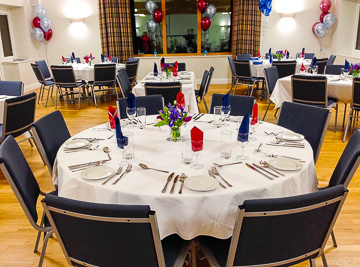 ---
Schools
Grindleton CE Primary School and Bowland High in the village have excellent web and social media sites:

---
Church
The Parish Church of St Ambrose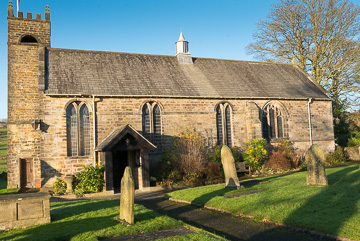 St Ambrose is a vibrant church in the Blackburn Diocese within the Church of England, and part of the new Bowland Benefice - a community of people from varied backgrounds and personal circumstances, always keen to welcome visitors and those wanting to know more about the Christian faith. St Ambrose church has a Facebook page.
The mission is to find joy in God and in each other's company, and to have fun and to grow as a community through prayer, worship and developing our faith.
The church was opened only months after the battle of Trafalgar in 1805. It was dedicated to St Ambrose of Milan, the patron saint of beekeepers, on St Ambrose's Feast Day, 7 Dec 1805. Beekeeping was very common in the village at the time and still is today.
The church has some glorious stained glass and a highly stencilled pipe organ. The two-manual organ was built in 1879 by Bevington and was recently refurbished. Music is important in the church and regular concerts are held. There is an etched window in memory of the 150th anniversary of the founding of Grindleton School. Below the window depicting St George and also St Joan of Arc, is the Village War Memorial where the fallen of Grindleton and Sawley in the two world wars are remembered. The churchyard contains war graves of soldiers of World War I and an airman of World War II. Information about the names listed on the Memorial and in the graveyard is available for download, and in a file on the table in front of the War Memorial.
The Rector is Reverend Mark Williams who ministers in the new Bowland Benefice which includes St Ambrose (Grindleton), St Peter & St Paul (Bolton by Bowland) and St Mary's (Gisburn).
At St Ambrose there is a service of Holy Communion each Sunday, usually at 9:30am but please check the website as on the last Sunday of the month there is Communion at 4.30pm. Everyone is most welcome, tea and coffee are served after worship with the opportunity to meet and catch up.

Grindleton CE Primary School, adjacent to the church, provides a secure, caring and stimulating environment in which children are encouraged to strive to do their best in all aspects of their development. They aspire to Grow and Shine in God's Glory. The Parish Room adjacent to Grindleton Primary School is available for meetings, small functions and parties by contacting Margaret Aspin (01254 824970).
The Benefice publishes the Parish News which contains details of church activities and contributions from all other organisations in the parishes. Local businesses can pay to advertise in the magazine.
In a confusing and conflicted world, people can feel lonely, isolated and worthless. This church offers a community worshipping God together; this gives the opportunity to meet people at regular services as well as at social events, to volunteer, to fundraise, to help each other, and to grow as Christians in this wonderful place. Please come and join us!
Arrangements for the reading of Banns, Baptisms, Weddings & Blessings should be made by contacting the Rector: Revd Mark Williams (01200 441152).
Harrop Chapel
Harrop Chapel is situated three miles north of Grindleton village near to Harrop Fold, just off the road leading to Slaidburn. The Chapel has the distinction of being the oldest building with Methodist origins in the Clitheroe area, which is still being regularly being used for public worship. A history of the Chapel is available.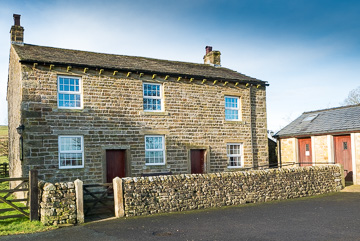 The Chapel is very versatile; it has a good fitted kitchen and also a bathroom and toilet enabling the Trustees to make the premises available to groups from other churches that may wish to spend a few days there. Sunday Worship is held every Sunday at 2:00 pm. The aim is to make the meetings both interesting and spiritually refreshing, with a good mix of music and song and preaching. All are welcome. For more information telephone 01200 447665. Bible Study Meetings are held every Thurday at 7:45 pm.
---
Recreation Ground & Sports
Grindleton Recreation Ground Charity was founded in 1972 when villagers bought the land which is now home to the football pitch and the Pavilion. Over the years there has been ongoing improvement to the facilities with the addition of the children's play area, a multi-use games area and in 2012 the Grindleton Pavilion, a community hall, was opened. Since then the charity has been donated the cricket field and is responsible for the maintenance and upkeep of all these facilities.
The committee consists of 15 people; many are representatives of local village groups such as the Church, WI, schools, sports clubs and the Brownies, plus some elected members.
Full details of regular activities taking place at the Pavilion can be found on their website, including details of the facilities offered for those wishing to hire the premises.
The Recreation Ground Charity leads on various fund raising and village activities including Bonfire Night, the Horticultural Show and Christmas Fair and the biannual Galloping Gourmet. Volunteers are always welcome and anyone interested in this can contact them at grindletonpavilion@gmail.com.
The Charity Commission page on the Grindleton Recreation Ground Charity (No. 223174) provides an overview, lists the trustees and presents the accounts.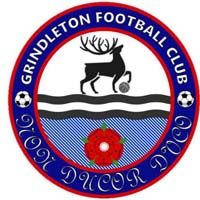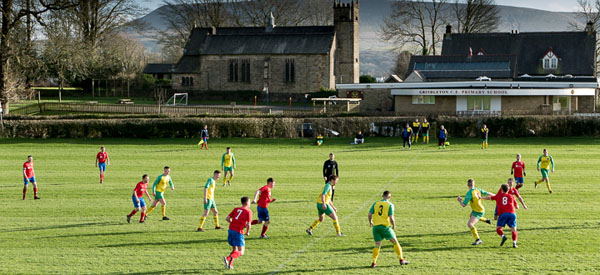 The football club (playing in green and yellow in the photo) is on Facebook and Twitter. The pitch is adjacent to the Pavilion on the Sawley Road, opposite St Ambrose church and the primary school. Teams have a dedicated side-entrance facing the pitch leading directly to the changing rooms in the Pavilion. Boots off please!
---

Grindleton Cricket Club has a Facebook page. Its ground is across the road from the Pavilion, with excellent views of Pendle Hill.
---
Outdoors
The Forest of Bowland (including Grindleton) is covered by Ordnance Survey Explorer OL41 map (1:25000), and the Harvey Forest of Bowland map (1:25000). Grindleton Fell can be accessed easily from the village by walking up Whitehall Lane at the top of the village to the White Hall, turning right up the bridleway (Green Lane) and up onto the fell past Cob House. Alternatively, by car, drive up Main St and after one mile when the road takes a sharp right towards Slaidburn, go straight ahead up the single track tarmac road until you reach the forest, where there is space to park a few cars. Please do not block the gate. Note that Grindleton Forest is only accessible using the public rights of way through it (green dashes on the OS map).
Below are websites and documents offering walking routes and other activities in the Forest of Bowland and Pendle Hill (and other parts of Lancashire):
---

Grindleton Forest on the Fell
---
Ribble Way
The Ribble Way passes through Grindleton. It is a 65 mile route and follows the course of the River Ribble from its source at Ribblehead in the Yorkshire Dales, to the estuary at Preston. The route passes through a variety of landscapes including limestone gorge, open moorland and tidal marsh.
The Long Distance Walkers Association website has information on the Ribble Way.
---

The bridge at Grindleton, on the Ribble Way
---
Greendale Millennium Wood
One of over a thousand woods across the UK cared for by the Woodland Trust, Greendale Wood was one of several Millennium projects in Grindleton. The site was planted in 2000-1 with 7,660 native trees and shrubs of British provenance: English oak, silver birch, ash, wild cherry, field maple, common alder, crab apple and with shrubs of rowan, guelder rose, hazel, hawthorn, blackthorn, goat willow, and bird cherry.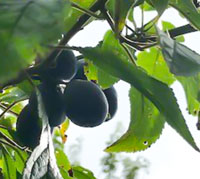 A large number of locally grown damson trees were planted to line a path from Buck Street. Grindleton was famous for its damsons. Areas of open grassland have been left to form the paths and glades, and an open area also left on the steepest part of the bank, which held the greatest variety of wild flowers.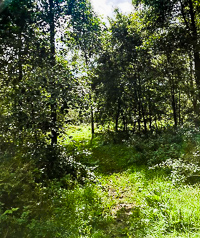 You are welcome to visit the wood. Further details are available on the Greendale Wood pages of the Woodland Trust website, and their management plan. A printable map of part of Greendale Wood is available here.
In April 2006 the Woodland Trust was gifted an area of land which lies directly to the north of the original site. March 2009, the school and villagers assisted the Woodland Trust and Lancashire Environmental Fund in planting 2000 trees in preparation for public access.
---

Grindleton Fell and Forest
---
History
Origin of the village name
The name Grindleton derives from Old English: "Farm/settlement at Grendling (grendel [Old English] - a gravelly place or stream)" - [Institute for Name-Studies, University of Nottingham].
A brief history of Grindleton by Chris Hall
Grindleton has a special geographical position on the northern bank of the River Ribble - a river notorious for the speed with which its waters rise after rain, making its fords and ferries unreliable. The river formed a natural boundary for the kingdoms of Mercia and Northumbria and later Lancashire and Yorkshire. So Grindleton found itself an outpost of Yorkshire and the diocese of York.
At the Norman conquest the village had no church but did have a mill and was important enough to be ruled by the local thane who also controlled Clitheroe. He was removed and Grindleton was divided between the manors of Slaidburn and Clitheroe. The only sign of early housing is Cross Fold Cottages which have the classic footprint of a medieval long house. The regular plan of the village can be seen in the cottages which run at right angles to Main Street with a cottage garden to the front. Some of these gardens were built on in Victorian times - the old Post Office and the Hollies are examples.... [more, as a PDF].
---
Organisations
WI Grindleton
WI members are everyday women of all ages and backgrounds, involved in activities from local campaigns to national issues. 'A forward thinking, diverse organisation that enables women like me to be listened to and act upon our concerns'.
Since the WI was founded in 1915 it has campaigned on issues such as domestic violence, equal pay, oil pollution and AIDS. Each member now has the opportunity to vote on the resolution to be taken at the national AGM. The diversity of the WI means that serious issues such as climate change are tackled alongside craft and cooking, sport and drama beside community projects.
Grindleton WI was formed in 1932 and then included West Bradford and Sawley. In 2012 they celebrated our 80th birthday with numbers steadily increasing; they have an active committee. A member serves on committees at Lancashire level so they are kept well informed of county and national issues. They support village life in several ways including litter picks, sports day and local walks, the open gardens and church activities. Monthly meetings are arranged to cover a wide range of interests to entertain and inform and enjoy being with friends. There are also visits to the theatre and shopping trips. Across the county there are many opportunities for visits, walks, the arts and learning new skills.
If you are interested in joining the group, they meet on the second Thursday of the month in Grindleton Pavilion at 7.30pm. Please make contact with either the President Gill Sharpe (07909511344) email, or the Secretary Kay Hopkinson (01200 441387) email. You will be most welcome.
The Royal British Legion
The Chatburn and District Branch of the Royal British Legion was formed in 1937. As a rural branch it incorporates Bolton by Bowland, Rimington, Downham, Chatburn, Waddington, West Bradford, Sawley and Grindleton and currently has over 90 members. They do not have a club house or meeting point but enjoy supporting the charity work of the Royal British Legion's Poppy Appeal with various social and fundraising events during the year. New members are always welcome. Please go along. The Branch holds an annual Service of Remembrance in November rotating around all the village churches.
Please download the local newsletter (Autumn 2019) for details and contacts.
Who do they help?: The Royal British Legion helps people of all ages and backgrounds. To be eligible for help, you must have served in the Forces for at least 7 days, or be the dependant of someone who has served. Recent examples of how the Legion has provided assistance are available here.
Current Campaign: The Legion has been caring and campaigning for the whole Armed Forces community since it was formed in 1921. View our previous campaigns section for more information on our past campaigns and see this site for their latest campaigns.
RBL Family Holidays: The Royal British Legion Family Holiday service aims to provide relief from the stresses of everyday life for families from the Armed Forces Community. Family Holidays provide beneficiaries with the opportunity to spend time together as a family, to try new activities and visit new places, or simply to relax at the seaside. Please download the leaflet for details (2MB).
Community Covenants: Community Covenants are voluntary statements of mutual support between civilian and Armed Forces communities. They are intended to complement, at a local level, the Armed Forces Covenant, which outlines the moral obligations between the Nation, the Government and the Armed Forces.
---

The track to Grindleton Fell, appropriately named Green Lane
---
Businesses
Birds in the Barn - vintage, curios and antiques
Mandy Brennan has a wide range of items for a Thank You, a Birthday, Wedding, Anniversary, Christmas, Mothers Day, Father's Day, a New Baby present, a Prize or a Reward.
Gift vouchers also available to purchase when you don't know what to give that special person.
Please come to browse, or for a chat and bring friends!
A Pop Up shop in Grindleton - contact Mandy on 07806 748528, @Birdsinthebarn on Instagram.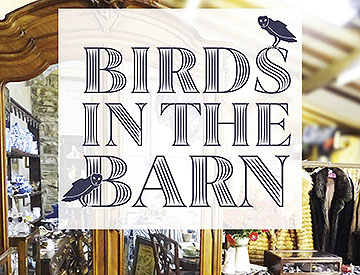 Jeff Marshall & Associates
Jeff Marshall & Associates are Architectural Designers and Surveyors based in Grindleton. They undertake domestic extensions and modifications, rural and period property work including barn conversions, space utilisation schemes and Listed Building consent. Planning and building regulations are undertaken where appropriate.
Please contact Jeff at Jefftmarshall@btinternet.com or telephone 01200 440157.
Marshal Peters Associates
Marshal is a Chartered Surveyor and Chartered Building Engineer, Fellow of the Royal Institution of Chartered Surveyors and a Fellow of the Chartered Association of Building Engineers. Prior to establishing his own practice in 2002 he was an Associate Partner with Smiths Gore Chartered Surveyors & Land Agents where he headed the Architecture & Building Surveying Department in Northumberland. He has surveyed and been personally responsible for works to some of the North of England's most prestigious historic buildings and sites. He is particularly experienced in the diagnosis of construction defects and consequently has appeared as a Public Inquiry expert witness in connection with the structural condition and repair of Listed and historic buildings. He has also presented expert evidence in numerous legal cases concerning housing disrepair and is a published technical author for the Royal Institution of Chartered Surveyor's Building Conservation Journal.
Services include:
Applications for Listed Building Consent;
Building Regulations;
Building Surveys;
Condition Surveys;
Historic Building Recording and Surveys;
Maintenance Management Plans;
Building surveying support services to rural estates;
Tender Documentation.
The telephone number is 01200 440650, and the email info@marshalpeters.co.uk.
Calligraphy by Norman Kelly - Kellygraphy
Calligraphy has been described as "music to the eyes" and Norman enjoys the challenge that it brings. He works in traditional and contemporary styles, and has undertaken a number of recent commissions. These have ranged from simple settings of poetry and prose to producing wedding table plans and cards. Norman also has a range of greetings cards/notelets based on pieces of calligraphy that he has done for commissions or exhibitions. These are available from Etsy and Amazon handmade. If you are looking for something a little bit special, please contact Norman for an informal quote. You can email him or phone 01200 441320, or write to him at Syke House, Sawley Road, Grindleton, Clitheroe, BB7 4QS.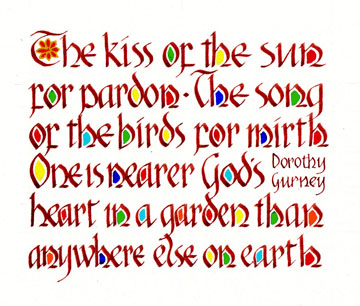 Harrop Fold Cottages
Harrop Fold is a hamlet 3 miles from Grindleton with a history dating back to the 12th century. Within Harrop Fold are a few cottages and farmsteads and an historic chapelOpens in a new window. Harrop Fold was awarded first prize in the competition for the Best Kept Hamlet in Lancashire during 2002, 2003 and 2004. The Bradley family built Bradley House, The Old Granary and Manor House Cottage in the years between 1650 and 1800; they were once major landowners in the area and are ancestors of the present owner.
There are 4 cottages within the accommodation. The Old Granary sleeps two, Manor House Cottage can sleep three, Bradley House sleeps up to four persons and Manor House sleeps up to six. All the accommodation is well appointed, with relaxing sitting rooms, exposed beams, colour TVs and well equipped kitchens. Prices range from £195-£540 per week depending on the season and the number of persons. Off-season and last minute breaks are available from £25 per person per night (minimum stay of three nights). The owner Mr. Frank Robinson can be contacted on 01200 447665 or by email.
Foxley Bank Stables holiday home
For those who like eclectic style and comfort, Foxley Bank Stables is the place for you. This self-catering accomodation in Grindleton consists of four bedrooms, three with en-suite bathrooms, all situated on the ground floor level, making it perfect for families and the elderly. Foxley Bank Stables sleeps up to 8 people.
It is ideal for small family parties, celebrations, and perfect for wedding guests who are attending local weddings. Come and relax in the sauna and steam room, read the papers while warming up next to the wood burning stove. The open plan kitchen is ideal for family get togethers. With lovely views, Foxley Bank Stables offers a perfect base for your stay in the Lancashire countryside.
For further details, please visit the website. The telephone number is +44 (0)1200 440197.
Greendale Storage
Greendale Storage is situated in the old Greendale Mill close to the centre of the village. They offer steel internal units, external insulated or uninsulated units, and boxed/crated long term storage. Phone number is 01200 440044 and address Greendale Storage, Greendale Mill, Grindleton, BB7 4QR, website.
Garry Fawcett Construction Ltd.
Garry Fawcett Construction undertake all types of building work from extensions to complete barn renovation. The business can be contacted at 2 Ribble Avenue, Grindleton; the phone number is 01200 441880 (mobile: 07970 825773).